QCPP is currently working towards QCPP Reform 2020 to develop a revised and improved QCPP for community pharmacies, in accordance with the 2017 Quality Care Pharmacy Standard.
The goal of QCPP reform 2020 is to develop a contemporary quality management system. This will enable community pharmacies to operate efficiently and meet business and community needs.
QCPP revised requirements
Our vision for the QCPP Reform 2020 includes a modernised and future focused approach to the review of the revised QCPP Requirements.
Pharmacies do not currently need to do anything in order to prepare for the revised program. All QCPP assessments in 2018/19 financial year will be administered under the current program.
Key components of QCPP Reform 2020
QCPP Resources and Tools (coming soon)
QCPP ICT Improvements (coming soon)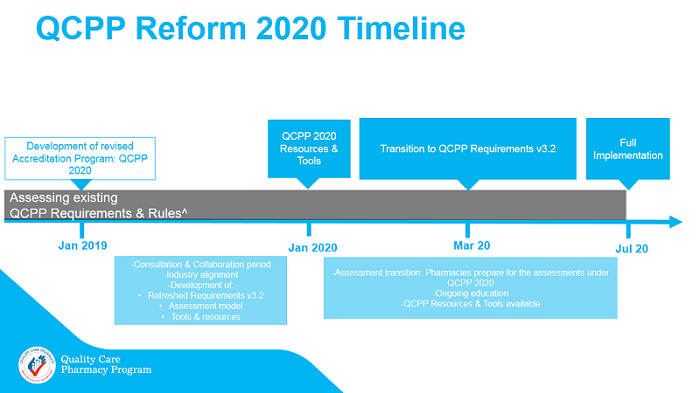 Consultation and collaboration
Your input is important to us. If you'd like to provide feedback on changes you would like to see implemented in the reform, please email us at reform2020@qcpp.com
Stay informed
Ongoing communication regarding QCPP Reform 2020 will be available from our website.
QCPP Reform Working Group
QCPP have created the QCPP Reform Working Group to oversee and provide ongoing input into the revised QCPP requirements.
Membership of the group includes representatives from a variety of pharmacies, including both Guild and non-Guild members, independent and banner group pharmacies, as well as pharmacies that participated in the pilot review. It includes subject matter experts with extensive understanding of small business pharmacies, particularly in areas such as pharmacy business management, implementation support, finance and accounting.
The group had their first meeting on 1 February 2018 and will continue to meet regularly during the development and roll out of the revised requirements.
The QCPP team is available to help with any questions or queries you may have about the reforming of QCPP. Call the QCPP Helpline on 1300 363 340 (9am-5pm) or email help@qcpp.com