In response to the COVID-19 pandemic, QCPP will begin conducting remote assessments in May 2020.
Community Pharmacies play a vital role in providing accessible health services to all Australians throughout the COVID-19 pandemic. Maintaining compliance and quality standards throughout this time is more important than ever.
With that in mind, it is important that QCPP assessments are not suspended indefinitely, but we adapt and innovate to ensure the ongoing integrity of our services to the community.
Therefore, QCPP will begin conducting assessments remotely from Friday 1 May 2020.
This will occur via a streamlined assessment process ensuring compliance across a range of high-risk areas that we feel is at an appropriate level and achievable for pharmacy, ensuring the integrity of your pharmacy is maintained whilst allowing time for you to focus on your role.
If you received an extension for your assessment as a result of the COVID-19 pandemic or your accreditation date is coming up, you will soon be contacted to schedule a QCPP Assessment remotely.
Stakeholder Information Session
On Thursday 9 April 2020, QCPP hosted a Stakeholder Information Session on the new remote assessment process, including an overview of QCPP's pandemic response plan, the remote assessment model, implications on Quality Care 2020 and ongoing engagement.
Catch up on the session in the full recording or view the presentation slides online.
Remote Assessment Process
To help you prepare for your assessment, read the pre-assessment checklist, which breaks down key steps in the remote assessment model.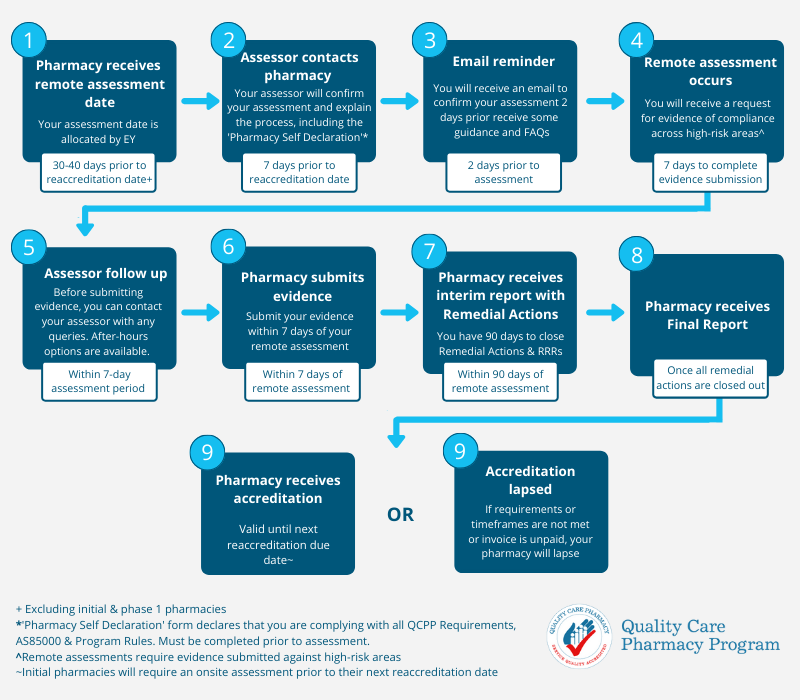 Timeline
Assessments commence remotely in May 2020. If your pharmacy's accreditation date is coming up, check out EY's Communications Map for a detailed look at when you can expect to hear from us.
Frequently Asked Questions
General
Click on the question to expand the answer.
Pre-assessment
Click on the question to expand the answer.
Post-assessment
Click on the question to expand the answer.
The process for remedial actions has not changed for assessments conducted remotely. For more information, please visit 'after your assessment.'
In most cases, an extension will not be necessary as the remote assessment process has been developed as a flexible, streamlined process.
Under exceptional circumstances, you can request remedial action extension via Request for Remedial Action Extension form on the QCPP website.
Support
If you have any questions, please email help@qcpp.com or leave a voicemail on the QCPP Helpline 1300 363 340 and a member of the QCPP Support Team will be in touch.